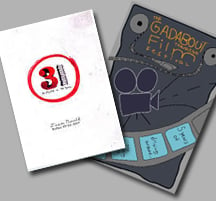 $

10.00 - On Sale
***SPECIAL*** $10 shipping included!!
Included:
31 Movies in 31 Days DVD
In October 2007 a team of filmmakers challenged themselves to make 31 movies in 31 days. The adventure proved to be exciting, rewarding, challenging, and most of all a ton of fun. Most of these short films are NOT posted online, so the DVD is the only way to see all 31 films.
Gadabout Film Fest DVD
This DVD is a best of selection of short films from the Gadabout's first 5 years. 2002-2007, all before youtube, so most of these films are NOT ONLINE anywhere. Packed with 30+ short films that are thoughtful, artistic, funny, smart, and extremely well produced.
Bonus Troy Pride Productions DVD
30+ short films from the first 7 years of me and my bud Dom making movies. All pre-beard! None online anywhere. Most are movies I'd love for people NOT to see (due to youthful embarrassment).